UK Representative
Navigating compliance in the UK with Enobyte
Appointing a UK representative
After the United Kingdom is no longer part of the European Union, seperate rules for appointing a representative in the UK apply. This representative is a conduit for communications between the controller not established in the Kingdom and data subjects and the supervisory authority.
We will gladly guide you through all the necessary steps to designate a representative in the UK in case your company is required to have one under the UK-GDPR. As your representative in the United Kingdom, Enobyte will take care of the following tasks:
Supporting you in complying with all requirements
Maintaining the record of data processing activities (RPA)
Acting as contact point for inquiries from the Information Commissioner's Office and data subjects in England, Scottland, Wales or North Ireland
Forwarding and, if necessary, translating (English/German/Japanese) inquiries to the company
When does my company need a UK representative?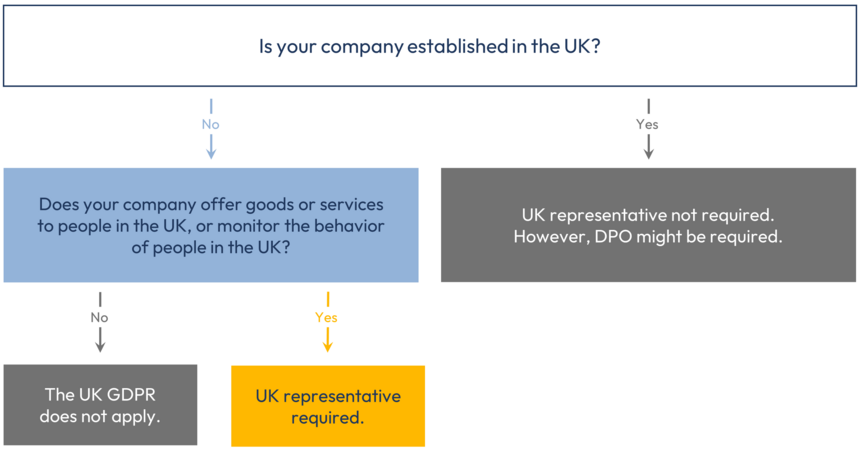 Many companies that process data from the UK, but do not have an establishment in the Kingdom, are required by law to designate a representative. The flowchart below may serve as an overview.
If your company does not have an establishment in the UK, but provides goods or services specifically to people in the UK, you need a UK representative. This may be the case if a company offers payment in Pound Sterling on its website, conducts promotional activities in Great Britain or North Ireland, or intends its services to be used in the UK.
The same is true if your company monitors the behavior of individuals in the UK, e.g. through location analysis or analysis of usage patterns in an app.
If your company has an establishment in the United Kingdom, you do not need a representative.
Some companies may need both a UK representative and a representative in the European Union if they are established in neither, but offer goods and services to people in both regions or monitor behaviour of individuals in both regions.
In this case, Enobyte can offer representation in both the UK and the EU.
What are the next steps?
If you came to the conclusion that your company needs a UK representative or have unanswered questions, our experienced team is happy to assist you in English, German or Japanese.
Simply get in touch and we will take the necessary steps to best represent your company in the UK, including:
Establishing a secure communication channel
Adjustment of your privacy notice
Review of your current data processing
Creation/optimization of your record of processing activities